Subterranean Press • Hardcover & eBook • April 2019 • 1596069066
Excerpt
Cruel Fate
Three years after discovering that her biological parents are convicted serial killers, Olivia finally has her life back, and it's better than ever. She loves her new job, as investigator for notorious defense attorney Gabriel Walsh. She has Gabriel, too, as they settle in together, dividing their time between Chicago and Cainsville. Olivia's also settled into her role as the legendary Mallt-y-Nos to Cainsville's fae population.
The only dream unfulfilled is seeing her father freed from jail, where he's been wrongly imprisoned for over twenty years. Now that wish is finally coming true. Todd Larsen is a free man. Someone, however, doesn't want him to stay that way. Todd may have been in prison for crimes he didn't commit, but there's one he did—the murder of a serial killer, whose death launched the chain of events that led to Todd's incarceration.
Before Todd can settle in with Olivia and Gabriel, the body of his one and only victim surfaces, along with planted clues directing the police to their doorstep. Does someone have a personal grudge against Todd? Or is it a fae targeting Olivia with the one threat she can't ignore? Olivia needs to find out who's behind this, before her father is ripped from her again . . . for good this time.
*******************************************************************************
Cruel Fate is a novella from Subterranean Press and includes 4 colour interior illustrations by Xaviere Daumarie. It will be released in two formats: 500 leather-bound signed & numbered hardcovers, plus unsigned cloth-bound hardcovers.
Please note that this is a 200 page novella, not a full-length novel. There is also an eBook edition. The eBook does not contain the artwork.
The cover at the left is the trade edition. Below is the limited edition.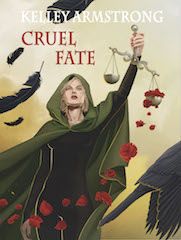 Purchase
Other Editions
Canada
Hardcover & eBook
April 2019
Subterranean Press
ISBN: 1596069066
PURCHASE:
United Kingdom
Hardcover & eBook
April 2019
Subterranean Press
ISBN: 1596069066
PURCHASE: